Lindyhop Dance Class on 13th January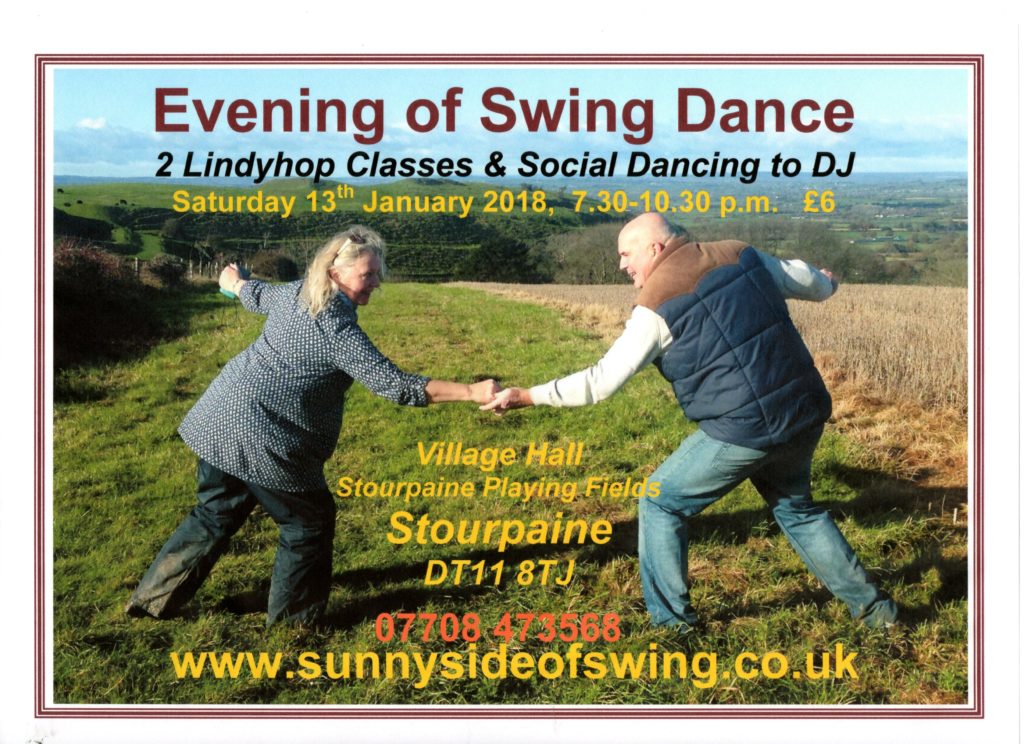 Strictly Swing in Stourpaine – Sunny Side of Swing, jazz/swing/blues band played in Shroton Village Hall after an introductory Lindyhop class and this was a great success, with dancers (experienced and beginners) attending from as far as Chippenham and Axminster. So Claire & Peter will be offering Lindyhop classes once a month (2 classes and social dancing with a DJ), with the band playing every 3rd month (with one class).
The next dance classes evening will be on Saturday 13th January at 7.30 p.m. [doors open 7.30, class starts at 7.45] at Stourpaine Village Hall, cost £6.
Bring your own drinks (and food, if you wish).  Some soft drinks will be provided.
Lindyhop is a partner dance that originated in the 1920's and 30's in Harlem. It continued its popularity well into the 40's during the Swing era and draws from earlier Charleston and Jazz steps and precedes jive and jitterbug. The Charleston routines on Strictly include several of these and are often choreographed by  one of Claire & Peter's dance teachers.
The name 'Lindyhop' comes from Charles Lindbergh flying solo across the Atlantic to Paris in 1927. It's great fun and there's no need to come to classes with a partner.
Tel: 07708 473568 or check www.sunnysideofswing.co.uk
Related posts: